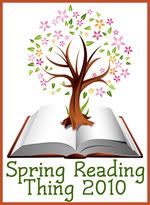 This spring, I managed to read 12 1/2 books as follows (you can read my review of each book by clicking on the titles):-
-
On Guard
(Defending Your Faith with Reason and Precision) by William Lane Craig
-
Storylines
(Your Map to Understanding the Bible) by Andy Croft and Mike Pilavachi
-
52 Things Kids Need from a Dad
(What Fathers Can Do to Make a Lifelong Difference) by Jay Payleitner
-
This Little Prayer of Mine
by Anthony DeStefano, illustrated by Mark Elliot.
-
The Secret Holocaust Diaries
(The untold story of Nonna Bannister) by Nonna Bannister with Denise George and Carolyn Tomlin
-
Real World Parents
(Christian Parenting for Families Living in the Real World) by Mark Matlock
-
Fear to Freedom: Victim to Victory
by Rosemary Trible (This is the one book that I started but have not finished.)
-
Just Like You
(celebrations of life from every continent) written by Marla Stewart Konrad, illustrated by Lin Wang
-
Rooms
by James L. Rubart
-
Let's Have a Daddy Day
by Karen Kingsbury
-
The Overseer
by Conlan Brown
-
Reborn To Be Wild
(Reviving Our Radical Pursuit of Jesus) by Ed Underwood
-
True Religion
by Palmer Chinchen
Out of all the books on the list above, my favorites are the last two. I'm not a fiction fan, but surprisingly, I did enjoy
Rooms
and
The Overseer
.
To see other participants' wrap-up posts, visit
Katrina at Callapidder Days
for the links.