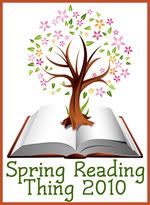 I enjoy reading, especially non-fiction (it will be obvious in my list :)). I'm also a book reviewer for several publishers; therefore, most (if not all) of the following books will have my review of them eventually (I'll link the titles to my review posts when each one is ready). Here is the list of books I plan to read this spring:
-
On Guard
(Defending Your Faith with Reason and Precision) by William Lane Craig
Besides the Bible, apologetics books rank up there among my favorites :).
-
What He Must Be
(...if he wants to marry my daughter) by Voddie Baucham Jr.
I'm reading this one with (to) my husband.
-
Storylines
(Your Map to Understanding the Bible) by Andy Croft and Mike Pilavachi
-
52 Things Kids Need from a Dad
(What Fathers Can Do to Make a Lifelong Difference) by Jay Payleitner
I'm a mom, but I'll be sharing the info. with my husband who is a dad. My husband is too busy to read :).
-
This Little Prayer of Mine
by Anthony DeStefano, illustrated by Mark Elliot. A picture book I'll be reading to my boys.
-
The Secret Holocaust Diaries
(The untold story of Nonna Bannister) by Nonna Bannister with Denise George and Carolyn Tomlin
-
Real World Parents
(Christian Parenting for Families Living in the Real World) by Mark Matlock
-
The Value of Values
by Ed Gagnon
-
Fear to Freedom: Victim to Victory
by Rosemary Trible
-
Just Like You
(celebrations of life from every continent) written by Marla Stewart Konrad, illustrated by Lin Wang
This is a picture book for children ages 4-7. I'll be reading it to my kids.
-
Restoration Road
by Mitch Kruse with Derek Williams
-
A Woman's Walk in Grace
by Catherine Martin
-
Let's Have a Daddy Day
by Karen Kingsbury
This is another children's book.
-
Way Back in the Country Garden
by Kay Moore
I'm sure I'll be adding more to this list as time goes on. If you would like to see what others are reading, visit
Katrina at Callapidder Days
and
5MinutesforBooks
. Have fun reading!