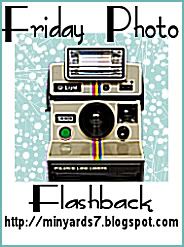 When our daughter,
Alyssa
, was one year old, we had this cloth banner made with her photo on it at the Oregon State Fair in 1994. She did not have much hair then but now she has beautiful, long hair :). And yes, she does love Mommy & Daddy! Mommy & Daddy also love her and are very proud of her!
Alyssa (now 16) just launched a quarterly Christ-centered online magazine for the whole family,
More Than Conquerors
. You will find a variety of articles, a free book offer, and a fantastic Vision Forum DVD giveaway. Please stop by there when you get a chance. I know she would greatly appreciate your comments and/or suggestions.
Previous Friday Photo Flashback:
- Corn Roast Festival
- A Taste of Thailand
- I Could Never Promise You
- In Father's Hands
- Thai Version of Wipe Out
- My Graduation Day in Thailand